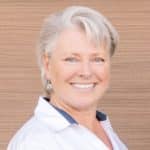 Anita is a physical therapist with over 30 years of clinical, education and healthcare management experience.  She has provided traditional and specialized patient care.  She is recognized for professionalism, patience, positive mental attitude, and commitment to excellence.  She enjoys working with physicians, staff, patients, and families to improve the physical well-being of her patients.  In addition to treating, she has held multiple senior-level positions overseeing clinical operations and therapy practices across the country.
Anita attended Ithaca College and previously held Board Certification Specialist in Sports physical therapy for over 20 years.
Anita is passionate about the role that movement and physical activity plays in the lives of her patients – of any age or situation.  She raises horses on her ranch in N. Scottsdale, AZ and  competes in cowboy-mounted shooting recreationally.