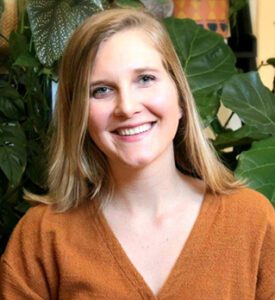 Abby is an occupational therapist and certified functional medicine health coach with a passion for whole-person, mind-body medicine. Throughout her experiences working in an inpatient psychiatric hospital, home health, private practice and within a fully remote diabetes clinic- she has supported individuals with a variety of complex physical and psychiatric needs. Abby feels inspired by the level of resilience she has witnessed within those living with chronic health conditions, and seeks to highlight those strengths when helping individuals move toward their vision of wellbeing.
Abby's interest in whole-person care began while observing many of her loved ones have difficulty managing chronic illness – feeling overwhelmed by their healing process and finding themselves "stuck" in habits that did not align with their health goals. This led her to help others find their own pathways to wellness. Abby believes each individuals' capacity for change and growth is immense and likes to collaboratively explore those opportunities through listening and open questioning while engaging in health promoting activities to learn through "doing."
Throughout her experiences as a college athlete, Abby grew even more intrigued with the mind-body connection as it relates to healing, while witnessing many of her teammates recover and manage injuries and pain with comprehensive training around mindset, movement, sleep, stress and rest/relaxation. Abby likes to help individuals discover the habits and routines around these concepts which are most supportive of their improved performance and daily life functioning.
Abby played volleyball and received both undergraduate and graduate degrees at the University of New Hampshire. Abby grew up in Ohio and has since lived and worked in New Hampshire, Washington, and Colorado, prior to settling in Arizona. Abby loves time in nature and staying active- walking, hiking, running, swimming or in yoga. She enjoys quality time with her cat Millie, her friends, family, and partner.